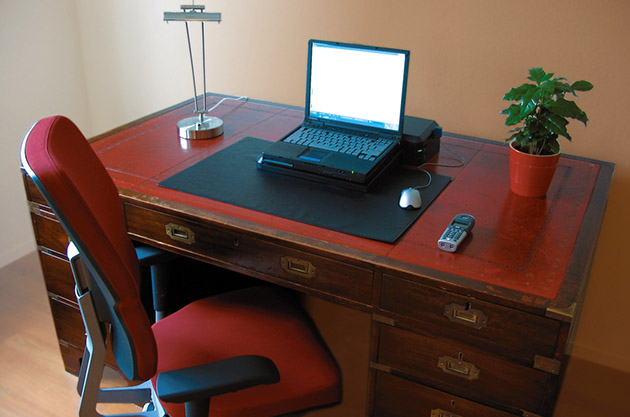 Did you know that most common problems we treat in chiropractic practice stem not from a traumatic injury, but from tiny stresses accumulated on the body over time? The postures and positions that we adopt over the majority of our day, and the repetitive motions required by our occupations, are at the root of most patients' complaints of pain and tension. If you, like many people, find your aches and pains aggravated during or after your workday, you many benefit from discussing workplace ergonomics with your chiropractor.
What is ergonomics? To paraphrase the United States Department of Health and Human Services, it is the science of fitting workplace conditions to be compatible with the capabilities of the worker. In other words, the easier a job is to do physically, the healthier and productive a worker can be.
Since a large number of folks these days are working at a desk, here are some basic suggestions to improve comfort in that scenario:
Adjust your chair (or desk) to a height that allows your elbows to be relaxed near your sides when writing, typing, or using the computer mouse.
An ideal chair would allow your feet to rest on the floor and your knees to form a right angle. It should have enough low-back support to help you sit up straight and not slump. The best choices are adjustable and allow you to change postions periodically.
Adjust the position of computer monitors so that you do not have to look down, or lean forward in order to see them well. Having your eyewear prescription updated may also help you to stop leaning forward to see.
When reading at your desk, a bookstand in a wonderful way to avoid looking down, and keep your body in the same good posture you would use for computer work.
If you spend a lot of time on the phone, a headset is essential. A long period of time spent holding the phone between your ear and shoulder is a recipe for disaster.
Try to keep wrists as straight and relaxed and possible when using the keyboard or mouse. Consider using an ergonomically designed keyboard and mouse.
Keep the most frequently used items within the easiest reach on your desk.
A quick break every 30 minutes to stand up and walk around would be ideal. If this seems unreasonable to you, know that even 10-15 seconds of stretching and changing positions can be beneficial. If you are at a computer (or have your smartphone nearby), you can set yourself reminders to do this every so often.
For more detailed advice, or suggestions specific to your line of work, be sure to ask your chiropractor at your next visit.
Additionally, if you happen to be a business owner or manager, it is important for you to be aware of the best ways to keep your employees safe, healthy, and productive. Many businesses, particularly smaller ones, may understandably be concerned about the added costs of adopting ergonomic standards; however, musculoskeletal injuries are the leading cause of lost workdays and worker's compensation costs. Thus, attention to this detail will ultimately serve to benefit all parties. compensation costs. Thus, attention to this detail will ultimately serve to benefit everyone.
Article by Dr. Yori Thomas