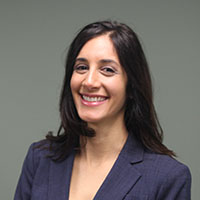 Dr. Kara Firestone graduated from the University of Delaware Honors Program with a Bachelor's degree in Nutritional Science and a minor in Biological Science. She then attended the University of Bridgeport's College of Chiropractic, where she graduated Summa Cum Laude with a Doctoral degree in Chiropractic as well as a Master's degree in Nutrition.
Dr. Firestone first began practicing in 2006; she is intensely passionate about her work. Since every patient is different, the treatment provided is specific to a person's individual needs. Through a variety of techniques, Dr. Firestone creates a treatment plan that is best suited for each patient. She is a holistic practitioner and takes into account all the various facets of a patient's life.
Outside of the office, Dr. Firestone maintains a healthy, active lifestyle. Her favorite activities include flying trapeze, aerial arts, and traveling. She enjoys cooking and creating healthy recipes in the kitchen.
"I believe in providing compassionate, attentive care for all my patients. I will take a comprehensive approach to diagnosing and treating your condition, with the goal of improving the quality of your life and maximizing your ability to function."