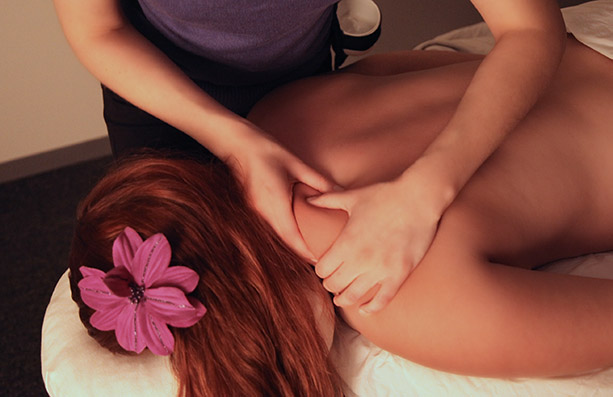 Massage therapy is extremely therapeutic and complements chiropractic care very well. The goal is to relieve muscle tension, decrease pain, increase flexibility, reduce stress, promote circulation, and stimulate relaxation.
Available Services
Deep Tissue Massage (included in Therapeutic Massage) – Deep Tissue Massage focuses on realigning deeper layers of connective tissue and muscles. It is a highly effective method for releasing chronic muscle tension and knots.
Swedish Massage (included in Therapeutic Massage) – Swedish Massage is a relaxing and therapeutic style of bodywork that uses long flowing strokes. Swedish Massage has been shown to provide relief from aches and pains, decreased stress levels, greater flexibility, and enhanced mental clarity.
Myofascial Release (included in Therapeutic Massage) – Myofascial Release targets the membrane surrounding the muscles known as the fascia. It can improve range of motion and comfort, in addition to helping with chronic pain, fibromyalgia, structural issues, arthritis, hip pain, and plantar fasciitis.
Therapeutic Massage w/Cupping – Cupping therapy is an ancient form of alternative medicine in which a therapist puts special cups on your skin to create suction. No heat is used. Cupping therapy can help increase blood flow, decrease inflammation, and improve well-being. During a cupping session, the massage therapist will perform a Therapeutic massage and apply cups to targeted parts of the body.
Prenatal Massage – Developed for expectant mothers, Prenatal Massage helps relieve the pain and discomfort that can be experienced during pregnancy. It can help relieve pain, reduce swelling, relieve leg cramps, as well as a variety of other symptoms.
Thai Massage – Thai Massage is a blend of Indian, Chinese and Thai traditions. This technique is performed on a thick mat on the floor while the client wears comfortable, loose clothing (no jeans, shorts, or skirts). The therapist uses hands, forearms, elbows, knees and feet to apply pressure and treat pressure points along the 'sen lines', which are similar to Chinese meridians or Ayurvedic nadis. The therapist will also move the client into poses similar to that of yoga to facilitate deep stretching and increase flexibility, leaving the client feeling relaxed, yet alert and agile.
Corporate Chair Massage – With Corporate Chair Massage, a licensed massage therapist will come to your workplace and provide massages services to you and your employees. Chair Massage is a fast and effective way to release tension and stress within the head, neck, shoulders, and back. The recipient sits fully clothed in a specially designed massage chair; sessions range from 10-15 minutes per employee. Chair Massage is a great way to promote wellness, increase employee productivity, and boost workplace morale. Corporate Chair Massage is also available for special events.
Pricing
| Massage Technique | 30 min | 45 min | 60 min | 90 min |
| --- | --- | --- | --- | --- |
| Therapeutic Massage (Deep Tissue, Swedish, & Myofascial Release) | $45 | $65 | $80 | $110 |
| Therapeutic Massage w/Cupping | | | $90 | $125 |
| Prenatal Massage | | $65 | $80 | $110 |
| Thai Massage | | | $90 | $125 |
Corporate Chair Massage
Why Choose Firestone Chiropractic & Wellness for Massage Therapy?
Our licensed massage therapists are trained in a variety of techniques that enable them to customize their care to fit your needs. Your massage may include several different techniques (e.g. Deep Tissue, Myofascial Release, etc.) to get the best results. Averaging more than 5 years of experience, our massage therapists have extensive knowledge of how the body moves and works. Whether you have a muscle strain, suffer from chronic pain, or just want to have a relaxing massage, we can provide the right treatment to help you reach your goals.
Massage therapy and chiropractic care complement each other very well. Muscles and bones are directly connected; if they are not working optimally and in harmony, the whole musculoskeletal system will be affected. At Firestone Chiropractic & Wellness, our practitioners will work together to address your areas of pain or ailment through an integrated multi-disciplinary approach.